MODEL 4HTS430
Hopper Feed For Trimming & Coping Face Frames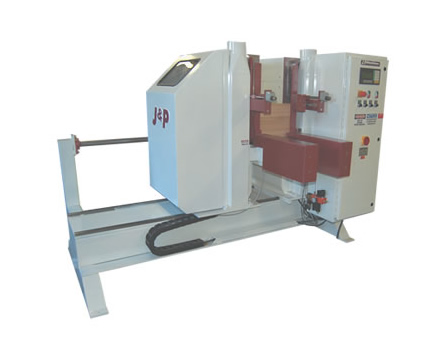 Overview:
This is a high-speed double end tenoner for trimming and shaping top and bottom rails.
Fast and accurate set-up to 1/10mm with mechanical indicators. Ideal for cabinet doors, kitchens, furniture, garage doors, house exterior and interior doors and similar applications.
This tenoner has many advantages over the competition. It has a compact design which offers fast set-up for small and large batches in different widths and lengths.
Only one operator is required.
Features:
Hopper magazine
Electronic keypad for user friendly
Friendly operation in all movements
High speed motors direct drive with frequency inverter adjustable from 3600rpm to 6000rpm
Precision linear bearing tracks
Minimum working length 5″ (125mm)
Maximum working length 39″ (1m) (other sizes available upon request)
Minimum working width ¾" (20 mm)
Maximum working width 6″ (200mm)
Saw diameters 200mm, 30mm bore
Shaping cutter: 200mm, 30mm bore with  replaceable knives
 Request Information On This Machine