MODEL 4V2HD26C
Boring & Grooving Machine for KD Parts. Ideal For Small Parts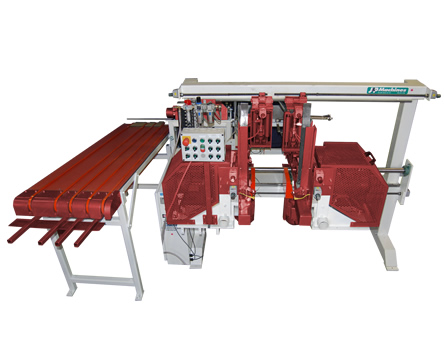 Overview:
This is a high-speed boring machine for horizontal and vertical drilling. It can handle cabinet and drawer components in a variety of shapes and widths.
Other machines may have great difficulty handling smaller pieces. This machine however is designed specifically for that purpose and won't take up your valuable floor space.
Only one operator is required.
Features:
Ideal for small & medium sized companies
Drills drawer side components in a variety of sizes
Loading magazine for automatic operation
2 horizontal heads with 5 spindles, 32 mm distance. High adjustments in heads for different thicknesses
2 vertical heads with multi-drilling spindles,  according to customer specification
Loading magazine for 20″ high stack
Opens and closes accurately to 1/10mm  with digital readout, positioned in the linear  bearing tracks
Easy to operate – requires only one operator
Drills approximately 20-22 pieces per  minute
Request Information