MODEL EHP-16-F
Mitre Saw for 45º Fames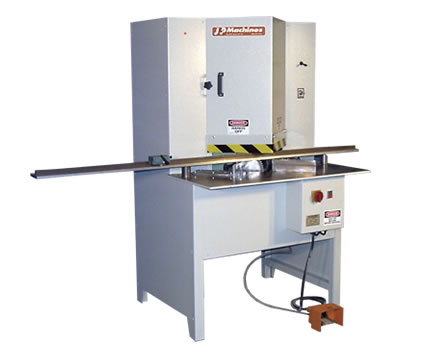 Overview
Accurate mitre cuts are easier than ever with our double mitre saws. The Automatic Vertical Precision Double Mitre Saw has been specifically
designed to cut the left and the right joins of a frame at the same time, allowing for a more accurate cut. This saw is excellent for any notching requirement.
An automatic vertically operating clamp locks the piece you are cutting in place before the blades come down. The decent speed of the blades gives maximum cutting precision with any type of material.
The saw motor holder and base are mounted on 11/4" diameter vertical rods and are equipped with maintenance free precision linear bearings.
Features:
Mitre cutting capacity: Model EHP 16
Width: 5" x 5"
Height: 5"
Notching capacity: Model EHP 18
Width: 7" x 7"
Height: 5"
Motors 3 Hp. 3450 RPM
Totally enclosed motor
220, 440 or 600 volts
3 phase 60 Hz.
Weight: 400 Kg. (840 lbs.)
Production rate of up to 10 cycles per minute.
Specifications
Request Information